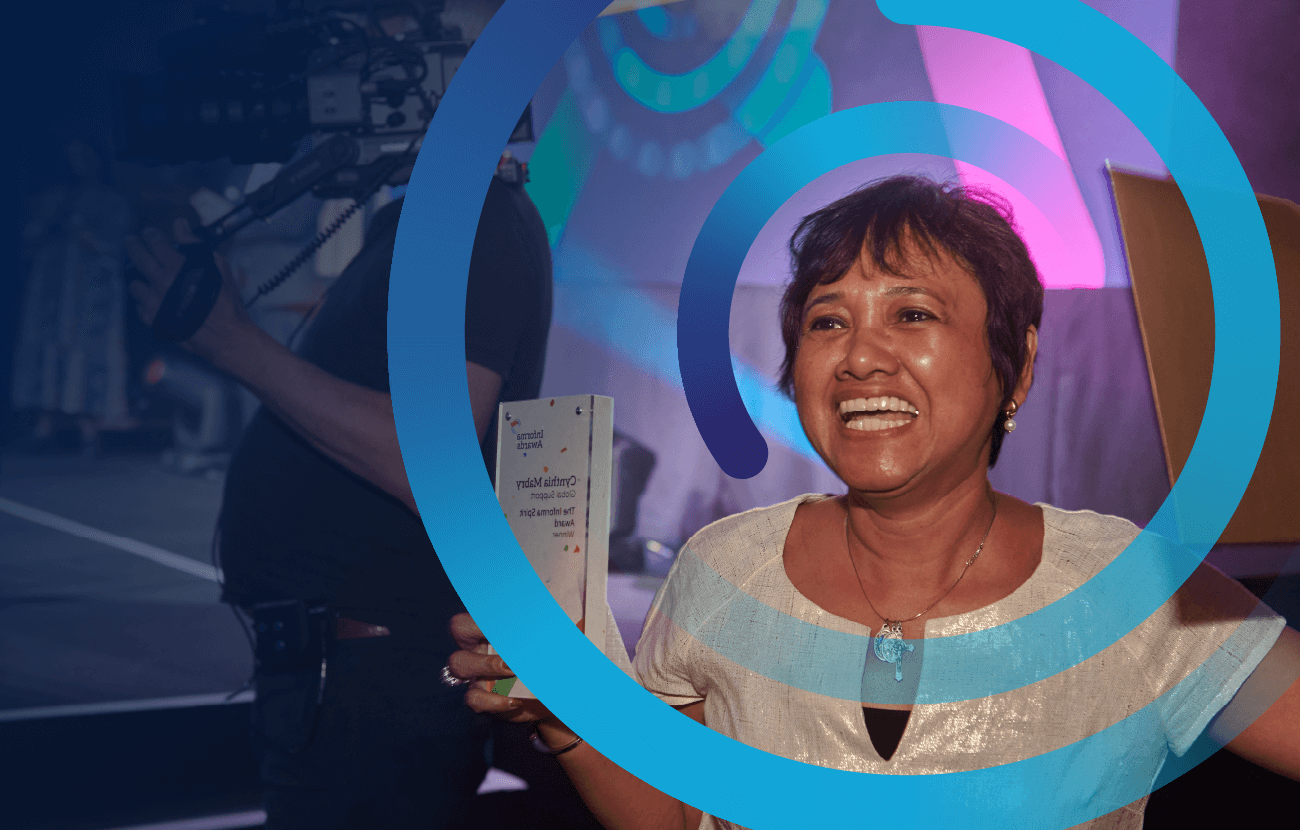 We're here to champion you
Discover Informa, where no two days are the same and you'll find the freedom, opportunity and support of a fantastic community to make a real impact.

We're Informa
At Informa, we're passionate about knowledge and connections.
We're here to help businesses and professionals all over the world to learn more, know more and do more.
And we do that in many ways: creating and delivering specialist content, expert research, powerful live events and exciting on demand experiences, digital platforms that connect innovators with funders, data-driven services that help businesses find new customers and reach bigger audiences, and more.
We're organised into five divisions, but whichever part of Informa you work in, you'll be joining a vibrant community of over 10,000 colleagues across 30 countries, and a fast-paced international company that's a member of the UK's FTSE 100 group of leading businesses.
Some of our leading brands

FAN EXPO

FAN EXPO, part of Informa Connect, is the largest Pop Culture events producer in the world.
We aim to provide the ultimate fan experience. Every year, our North America events in Toronto, Dallas, Boston, San Francisco and beyond welcome over one million fans, providing family-friendly attractions and renowned celebrity appearances.

Natural Products Expo West

Informa Markets organises the world's leading live event dedicated to the business of natural, organic and healthy lifestyle products: Natural Products Expo West.
If you are passionate about championing the growth of the natural products industry, this is the place to be.
From emerging brands to the biggest retailers in the US, Natural Products Expo West showcases the latest products, trends and innovations and connects the entire community.

Omdia

Tech professionals looking for world-class research and expert insight come to Omdia, part of Informa Tech.
Our researchers, consultants and data experts deliver research that matters in areas including cybersecurity, smart buildings, consumer electronics and more.

China Beauty Expo

Businesses looking for the latest products, technology and innovation in the Beauty market come to China Beauty Expo.
Part of Informa Markets, China Beauty Expo delivers a must-attend live event, which saw nearly 500,000 visits in 2021, a virtual expo and a digital partnering platform that matches product makers with distributors.

Aviation Week Network

Aviation Week Network, from Informa Markets, is where aviation and aerospace professionals come for intelligence and connections with the opportunities and people that matter.
From data to editorial, events to lead generation services, we help the aviation community learn more, know more and do more.

BIO-Europe Spring

BIO-Europe Spring, from Informa Connect, champions the global biopharma industry and helps bring medical breakthroughs to market.
Our live event and digital platform connects life sciences innovators with the investment and partners they need to develop ideas into new products and better patient outcomes.

We champion you
Life at Informa means you'll get the freedom and flexibility to bring your ideas to life, doing work that makes a real impact and positive difference.
You can count on the support of our international, inclusive community of fantastic people. And in a company with such a broad reach, you'll get lots of opportunities to grow.
Read more about how we're here to champion our colleagues and what you can discover with us.

Freedom
Life at Informa means more freedom and fewer barriers.
We approach our work with a truly entrepreneurial spirit, encouraging our colleagues to put their hands up and get stuck in, in the pursuit of something better.
Whatever your role, we champion energy, ambition and experimentation. You'll get the trust to work flexibly, the space to share your ideas and the freedom to bring them to life, helping to advance what we do and how we serve our customers.
There is certainly no getting bored!
Roll up your sleeves, join in and help us make things happen.

Impact
You can have real impact at Informa, because what we do matters.
Everywhere we work, we work hard, fast and sustainably to create a positive difference for our customers, our communities, the world around us and each other.
Whether it's delivering another amazing result as a team, seeing a customer succeed thanks to our support or knowing we've helped a local community thrive, you get to see and feel the impact of our work in real time, and that can be so rewarding.
Together, we make a difference.

Community
Ask anyone: it is our amazing colleagues that make Informa so special.
We are an international community of great people, bringing a diverse range of experiences, insights and contributions to life at Informa.
No two days are the same and no two people are the same, and that's how we like it.
We pride ourselves on an inclusive and open culture, bringing fun to our work and celebrating our successes together. You can count on the support of a great community and a company that's here to champion your success.
We're here to champion you.

Opportunity
In a company with such a broad reach, there is lots of space to grow.
Where else could you rub shoulders with big brands and leading experts, in exciting places, alongside some of the most dedicated colleagues in our markets?
Across our businesses, locations and roles, there are so many opportunities to develop new skills, discover new experiences and build a varied career.
And as we build our business for the future, we are creating even more chances to grow, learn, experiment and lead.
Explore Informa and see where it can take you.
Why join us?
A flexible rewards and benefits package
We provide a wide range of personal rewards and benefits, tailored to each of our countries.
Depending on where you are based, that might include discounted gym membership, competitive pension schemes, life assurance, extra days off for life events like getting married or moving house, and the chance to choose from additional benefits including transport and ride to work schemes.
Some of the highlights available across our locations include:
A great holiday allowance, and an additional day's holiday for your birthday!
The chance to become a shareholder through Informa's rewarding share plans, which provide free matching shares or discounted share purchase to colleagues in eight countries
Access to a range of health and wellbeing services, including in-house mental health first aiders and 24 hour expert support through our colleague assistance programme
Balanced and flexible working
Across Informa most colleagues work flexibly, as part of what we call Balanced Working. It means you get to balance time in the office with time working from home. Some roles are dedicated home worker positions.
When working from home, you get full support to work comfortably, technology that means you can stay fully connected and digital communications that make sure you're up to speed on what's going on.
And in our office hubs, you'll find great facilities and environments as well as support from onsite teams including IT.
For us, time spent in the office is ideal for meeting, collaborating, getting creative and learning from others. We'll help you make the most of that with social events, workshops, training and the chance to get to know your colleagues better.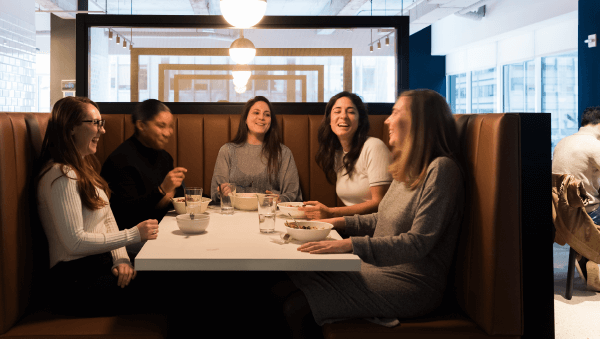 Opportunities to learn
Wherever you work at Informa, there are opportunities to learn and develop your career.
From formally accredited programmes to tailored internal training, secondments, on-demand access to thousands of courses through LinkedIn or just learning from the great colleagues around you, there are lots of ways to discover and develop.
An inclusive culture
We are continuously working and investing to promote diversity and build a fully inclusive culture and community.
Our AllInforma diversity and inclusion programme is dedicated to ensuring everyone can participate equally and have impact in our company.
Plus, there's the chance to join one of our five cross company colleague networks. These are led by colleagues, for colleagues and are dedicated to connecting, supporting and celebrating our diverse communities.
Our networks include AllInforma Nations, supporting colleagues from minority ethnic groups; AllInforma Rainbow for LGBTQIA+ colleagues; AllInforma Balance which focuses on gender balance; AllInforma Illuminate, which works to shine a light on disabilities and conditions; and AllInforma iCAN for colleagues in their early careers.
Inclusion is at the heart of our networks and everyone is welcome, whether as an ally or a member of one or more of our communities.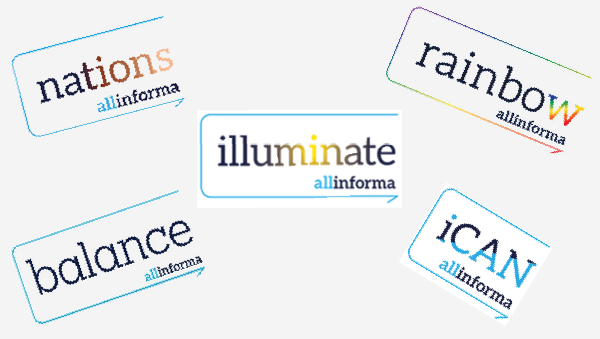 Your voice matters
Year-round, there are lots of opportunities to have a say, make your voice heard and contribute to how we grow and advance as a business.
You will find company-wide conversations and town halls, innovation competitions, ask the management forums, regular surveys and the chance to share your views, blog and comment via our social intranet.
There is lots of freedom to share ideas, input and make an impact.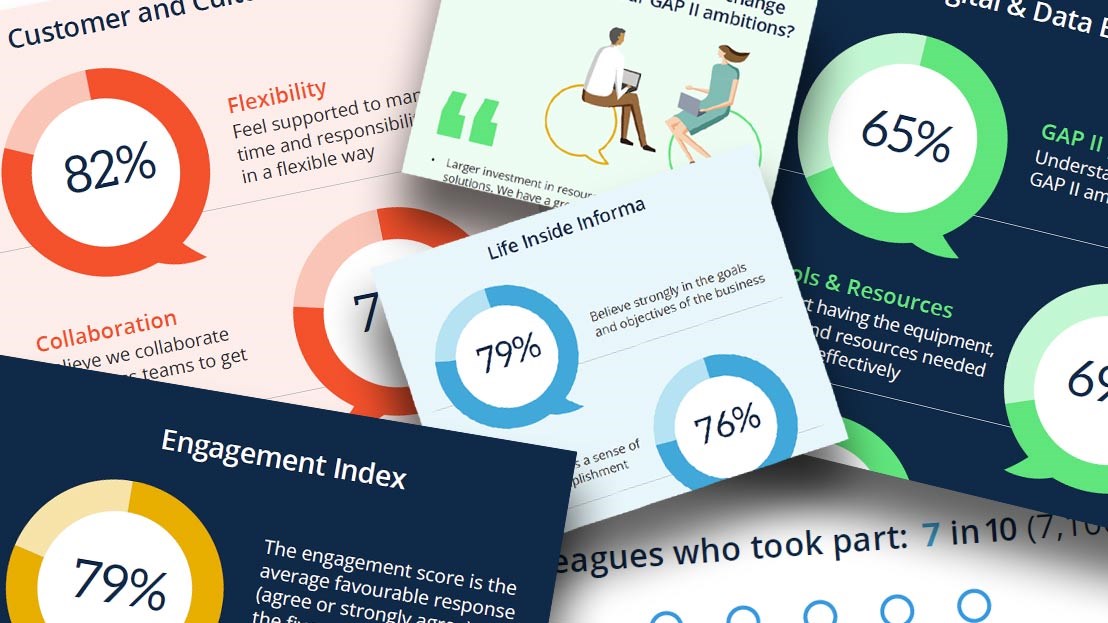 Connection and fun
Coming together as an Informa community and bringing fun to our work are non-negotiable!
You'll find lots of ways to connect, celebrate and have fun. One of our colleagues' favourite is Walk the World, a global annual charity event that sees everyone take time out to walk together and raise money for great causes.
We also run the annual Informa Awards to recognise and applaud colleagues and teams for outstanding achievements and contributions.
Committed to sustainability
Informa is a CarbonNeutral© Company, and we are proud to be recognised as a leader in our market on sustainability by Dow Jones.
But we know there is more to do. That's why we have a programme called FasterForward, which is about embedding sustainability into everything we do, and helping our customers understand and meet their sustainability goals too.
Everyone at Informa has a role to play in FasterForward and is encouraged to get involved!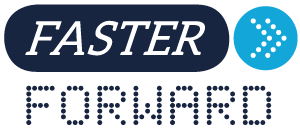 Make a difference in your community
The impact you can have at Informa includes having an impact in your local community.
We offer every colleague the chance to take up to four days each year to volunteer with a charity of their choice. Sometimes our teams volunteer together and use their professional skills to really make a difference to a local organisation.
Plus, there are dedicated volunteer grants and match funding available for colleague fundraising.

We're investing
Informa is growing and investing, making us a great place to grow and develop a career too.
Our key programme is called the 2021-2024 Growth Acceleration Plan II, GAP II.
Through GAP II, we are expanding the leadership positions our brands have built, adding more digital and data-driven products, investing in our colleagues and culture and making sustainability an even larger part of everything we do.
Why not come and build a career at a company that's building for the future.

Our Sustainability focus
Joining Informa, you'll be part of a certified Carbon Neutral Company with an ambition to be zero waste and net zero carbon by 2030 or earlier.
But that's not all. Through our FasterForward programme, we are embedding sustainability into everything we do and helping our customers to do the same.
That includes putting sustainability into all of our products and brands, so that the knowledge and connections we provide can help our customers achieve their sustainability goals too. It also includes helping disconnected communities around the world access the networks and knowledge we provide.

Roles at Informa
We have roles and opportunities in dozens of areas and markets.
Whether your specialism is in digital marketing, brand strategy or platform development, or your passion is in content, data analytics, customer success or event operations, we're always looking for great talent.
See all our current opportunities or check out our roles in focus below.