Creating a culture of volunteering
Viktoria Vitekova, Sustainability Assistant Manager, Informa Group, Amsterdam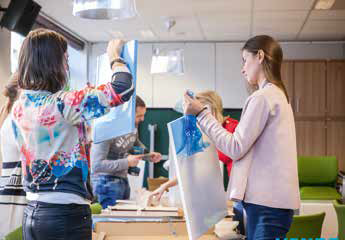 All Informa colleagues get paid volunteer days and everyone is encouraged to take part in volunteering that provide steam-building or uses their professional skills to add value to community groups.
In total, 15% of our colleagues volunteered in 2018, and some offices saw much higher participation rates this year than last. In Amsterdam for instance, 86% of colleagues in the office volunteered a total of 735 hours in 2018.
For the second year running, the office organised a volunteer week, aiming to get everyone involved in some kind of activity. By giving people ideas for different activities and styles, we hoped to encourage more people to use more of their volunteering days.
People chose between 10 different charities which support a wide range of groups across the city, including the elderly, homeless people, people with addictions, disabled people or those in debt.
Our volunteering is also boosted by the support we offer to charities that partner with us for various shows and events. For example, we held a workshop with the International Medical Corps, the official charity partner of the Pharma portfolio, to explore ways we can help to grow and support the partnership.
I think these kinds of projects in particular demonstrate how our people can develop their skills, and use them to benefit community groups, whilst taking advantage of a great benefit that Informa offers.