A new look for the fashion industry
Tom Nastos, Chief Commercial Officer; Shawn M. Hazan, Commercial Director, Informa Markets, New York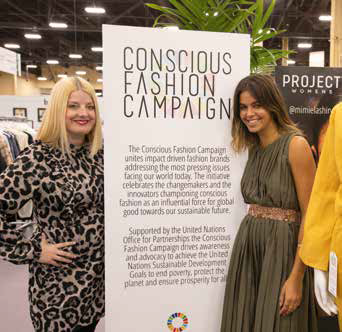 In 2018, our fashion exhibitions business began a collaboration with the Conscious Fashion Campaign and the United Nations (UN) Office for Partnership in support of the UN Sustainable Development Goals. The initiative, launched at COTERIE in September, aims to harness the power of retailers, media and celebrities to recognise fashion brands that are working to end poverty, protect the planet and practise sustainability– also known as "conscious consumerism".
Called Conscious Collections, 16 brands were celebrated for their efforts. These ranged from creating economic growth for female weavers in India and using zero-waste practices across the entire production process, to creating a network of artisans in Africa who make jewellery from reclaimed materials.
We are one of the leading event organisers in the fashion world,which gives us a unique perspective on where future trends are moving. We aim to work with our partners to reflect the trends in the industry but also recognise opportunities for the industry to act as a moral compass with the responsibility to promote sustainability. That's why, in a world increasingly concerned about the environmental impact of fashion, we are celebrating those partners who are doing it differently. By leveraging our ability to highlight great solutions to our audiences and propel the mission of the Conscious Fashion Campaign, we are part of creating a positive legacy for the fashion industry and the world at large.