Taylor & Francis partners with Chinese Academy of Sciences
Oxford, UK, 11 May 2017: A new partnership between Taylor & Francis, Informa's Academic Publishing Division, and the Chinese Academy of Sciences, National Sciences Library, will ensure that all Taylor & Francis journals are evaluated and indexed on the CAS platform GoOA, providing greater access for Chinese researchers.
The partnership will also bring further support to Chinese authors and editors through a series of training events.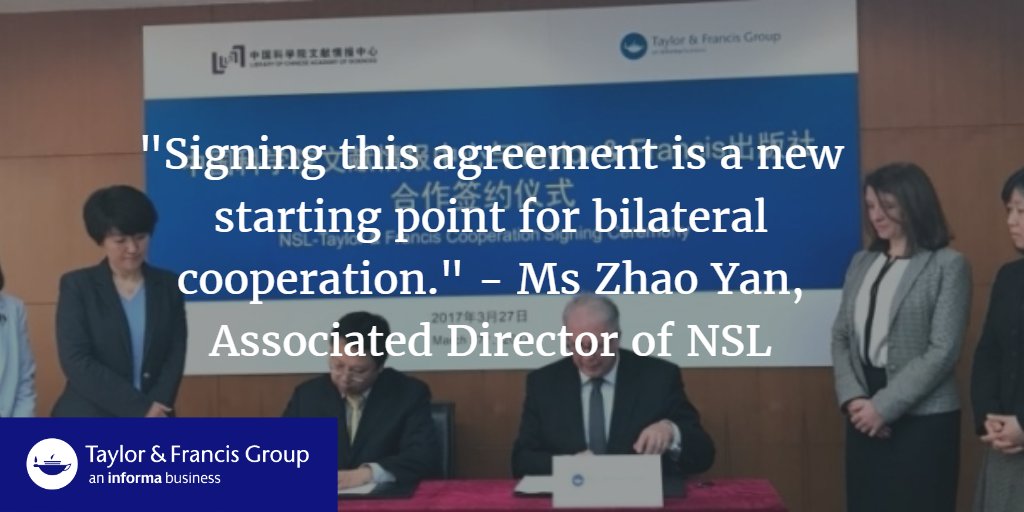 The Chinese Academy of Sciences (CAS) brings together a network of scientists and engineers to harness the benefits of science and technology and drive innovation for China and the rest of the world.
The Open Access strategy of CAS is to provide clear information about OA to their researchers through their platform GoOA. The inclusion of Taylor & Francis journals in the GoOA index will enhance the experience of Chinese researchers, helping to uncover the latest key research in their area of interest.
Commenting on the partnership, Dr David Green, Journals Publishing Director for Taylor & Francis, states: "This exciting new cooperative agreement will usher in better access and discoverability of Taylor & Francis journals for members of the Chinese Academy of Sciences (CAS), as well as providing a range of publishing support services to enable CAS to progress its research information plans".
Ms Zhao Yan, Associated Director of NSL, adds: "Signing this agreement is a new starting point for bilateral cooperation. The two parties will work together with a more open attitude, to provide a more direct, effective and pragmatic knowledge service for the Chinese Academy of Sciences and even wider research users in China".
Find out more about Open Access publishing on the Taylor & Francis website.
About the Chinese Academy of Sciences
The National Science Library, Chinese Academy of Sciences (NSLC) is the public library service system of CAS. CAS is the biggest national research organization in China, with more than 120 national institutes including >40,000 researchers and >40,000 graduate students. NSLC functions as the key library nationally for collecting information resources and providing information services in natural sciences, inter-disciplinary fields, and high tech fields, for the researchers and students of CAS and for the researchers around China.
About Taylor & Francis Group
Taylor & Francis Group partners with researchers, scholarly societies, universities and libraries worldwide to bring knowledge to life. As one of the world's leading publishers of scholarly journals, books, ebooks and reference works our content spans all areas of Humanities, Social Sciences, Behavioural Sciences, Science, and Technology and Medicine.
From our network of offices in Oxford, New York, Philadelphia, Boca Raton, Boston, Melbourne, Singapore, Beijing, Tokyo, Stockholm, New Delhi and Johannesburg, Taylor & Francis staff provide local expertise and support to our editors, societies and authors and tailored, efficient customer service to our library colleagues.
For further information, contact the Taylor & Francis Newsroom at newsroom@tandf.co.uk and +44 (0) 20 7017 6000.