Taking the Indian Print Industry by Storm
IPEX South Asia 2011, the 3rd satellite edition of the globally renowned IPEX in India was held from 16-19 September at BEC Mumbai. The show was officially inaugurated by Vijay Chopra, President NIPA & MD Punjab Kesri, Manoj Mehta, President AIFMP and Trevor Crawford, Director Print Group Informa by the traditional lamp lighting and ribbon cutting ceremony. They praised the efforts of the organiser for bringing in the global IPEX brand to the region.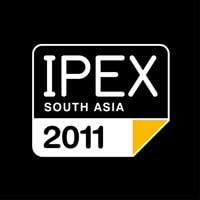 IPEX South Asia is an effective gauge of the state of the graphic art industry in the given region. In 2009 the show helped to stimulate a renewed optimism in the industry in the wake of recession; while this year IPEX South Asia was marked by the significant impact made by visitors from region to the show.
Visitors from the region have long been a driving force behind the event's rising attendance figures but never before have had they made such a substantial impact on the atmosphere on the show floor. With the visitors footprint towering to 9349 the industry has endorsed it's loyalty to the show. Pre-registration of the visitors was up by 30% compared to the last edition.
The VIP Buyer Program or the IPEX Distinction Program, which has been responsible for gathering the top printers in India, yet again scored well with the count of 367. The program has been well received by the exhibitors as it guarantees the distinguished buyers to show.
For rather than a significant increase in attendees from the region, this year the Indian printers made their presence felt by spending money. The show floor was continuously awash with news of fresh deals signed, as most of the major manufacturers, including Ricoh, Canon, Xerox, Autoprint Machinery, Goss International, HP, Konica Minolta, EFI, Fujifilm India, Future Graphics, Colorjet, Paper Bind,– as well as pre/post press suppliers such as RSG Solution, Sai Enterprises, Reprographics India– reported orders from the region.
Leading industry suppliers' commitment to the region was reinforced with the signings or announcements of a number of deals. Ricoh had at the end of the first day had gained six orders for its newly launched Pro C751 press. The total orders swelled by ten which included Pro C901 and a wide format printer. Xerox, who launched DC8080 at the show, opened the account just after the launch. Exhibitor at the show revealed to the show team that the number and quality of the visitors from the region justified its strategy of attending the event purely to target that audience.
Puneet Dutta of Canon India feels that Ipex has been carving a niche for itself as an exhibition of Indian graphic art and digital printing industry. He further added that IPEX SA has offered quality and serious business visitors.
Sai Enterprises bagged four orders whereas Reprographic India measured in excess of seven confirms Akram Mohammed, regional manager Reprographic India. He said, "We have never had a better exhibition than at IPEX South Asia this time around."
"This Mumbai edition of IPEX South Asia 2011 has surpassed all expectations and has proven to be the best edition yet," commented Trevor Crawford, Director, Informa Print Group. "The wide range of products, accessories and services on offer and the high quality of both local and international visitors has reaffirmed IPEX South Asia's position as the leading industry event and the gateway to the booming printing industry in India."