Informa's RORO 2014 rolls into London with fresh insight
New conference topics and high profile exhibitors have been announced for RORO 2014, the only exhibition and conference dedicated to the roll-on/roll-off shipping industry, which takes place at ExCel in London, from 24-26 June.

RORO 2014 is a free-to-attend three day exhibition and conference providing logistics professionals involved in roll-on/roll-off (RoRo) shipping with the opportunity to meet, network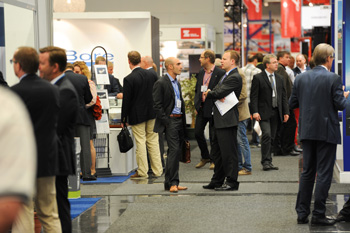 and do business. The RORO conference takes place within the exhibition hall and the sessions will provide a comprehensive understanding of the RoRo transport issues currently being faced.

High profile companies already confirmed to exhibit at RORO 2014 include Mann Lines, Godby Shipping, Cronos Container Group, Port of Bilbao and Seaports of Niedersachsen, among others.

"RORO gives us the opportunity to meet with customers who are seeking modern port facilities, as well as flexible port services and individual value-added-services in terms of RoRo shipments" says Inke Onnen-Lübben, Managing Director of Seaports of Niedersachsen GmbH. "This is what our ports in Niedersachsen – especially the ports of Cuxhaven and Emden – can offer to their customers. Both ports have invested in new equipment and port facilities and there are plans for new RoRo-infrastructures. I'm sure that it will be very interesting for RORO 2014 visitors to hear about those new prospects in our ports and how they could benefit."

Chairman of the Port Association of Cuxhaven, Hans-Peter Zint, will present a conference session titled 'RoRo port facilities and new logistics solutions' on Day Three.

Roger Strevens, Vice President, Global Head of Environment for Wallenius Wilhelmsen Logistics, will present a conference session on Day Two, addressing the current Sulphur regulations and looking at ways to enhance their enforcement. "On the basis that the best vision is insight, RORO 2014, with its diverse attendee profile and broad agenda, is the RoRo and shipping event not to be missed" he says.

Managing Director of MDS Transmodal, Mike Garratt, will present 'The global outlook for the RoRo market' on Day One, which will consider how the industry could identify a means of expanding, despite the fact that intra-European trade is relatively flat and the low emissions legislation could make it less competitive. "We have already had a fantastic uptake on pre-show registrations through the website," says Sophie Ahmed, Event Director. "Visitors will include decision makers from various sectors including car and vehicle manufacturers / OEMs, cargo logistics companies, freight forwarders, ship builders and port and terminal operators, with buying power."

Visitor companies already confirmed to attend RORO 2014 include P&O Ferries, Euro Terminal Co.Ltd., Ports Of Sweden, DNV, Port Of Dover, Port Solutions Ltd, Port Authority Of Dunkirk and Shipping & Port Management Limited.

Logistics and shipping professionals at RORO 2014 will further benefit as the event will be co-located with TOC Europe and the recently launched Port Centric Logistics (PCL) exhibition.