Cystic Fibrosis frequently misdiagnosed in Middle East region
Cystic fibrosis (CF) is a chronic genetic multisystem disease. It is inherited in an autosomal recessive pattern, which makes it more prevalent where consanguineous marriages are common. The UAE, along with other GCC and Middle Eastern states are no strangers to this custom of marriages occurring within close familial ties. Previous research from Faculty of Medicine and Health Sciences in Al Ain, UAE, confirmed that 94% of CF families in the UAE were carriers of a genetic mutation and called for an efficient CF carrier screening programme in the country .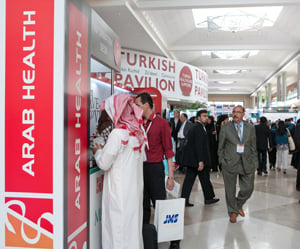 Dr Yazan Said, Consultant, Allergy/Immunology and Paediatric Pulmonology, King Fahad Specialist Hospital, Dammam, KSA, will discuss Cystic Fibrosis in the Middle East at the Paediatrics Conference during the Arab Health Exhibition & Congress taking place from 27-30 January 2014 at the Dubai International Convention & Exhibition Center.
Cystic Fibrosis is a progressive disease that leads to organ damage and death, the most common cause being the lung disease followed by end-stage liver disease (the second most common cause of death). Cystic Fibrosis frequently also causes pancreatic dysfunction, both extrinsic (leading to malabsorption and growth failure) and intrinsic damage (leading to Cystic Fibrosis-related diabetes mellitus). Cystic Fibrosis also leads to infertility in most males and subfertility in females.
According to Dr Said, "Cystic Fibrosis remains underdiagnosed in the Middle East. Many patients are treated as recurrent chest infections, asthma-like disease, chronic diarrhoea and failure to thrive. Some Cystic Fibrosis mutations cause mild and atypical disease that affects one or more organs, which makes it harder to be diagnosed. Low awareness and experience with this disease can explain some of the under or delayed diagnosis, but importantly the lack of diagnostic tools and experienced technicians in many healthcare facilities in our region can be a major cause for delayed or missed diagnosis."
Newborn Cystic Fibrosis screening has been adopted by many western countries, with the objective of early diagnosis and intervention, and long term objective of preventing or delaying organ damage and prolonging life expectancy. This approach has shown long term cost-effectiveness in countries where Cystic Fibrosis is more common.
"However, the decision to include this approach the Middle East is hindered by proper prevalence information and economical cost effectiveness studies," says Dr Said.
Cystic Fibrosis has huge economic impact on patients, families and healthcare system.

"Medications are numerous, expensive and time-consuming," says Dr Said. "Patients who develop end-organ damage are offered organ (e.g. lung or liver) transplantation, but the yield is still suboptimal. Hence efforts have been directed towards screening the disease, as well as early diagnosis and intervention, in order to slow or prevent organ damage and increase life expectancy," says Dr Said.
-END-
Note to Editors
About Arab Health Exhibition & Congress:
Arab Health Exhibition & Congress is the largest healthcare event in the Middle East. Established 39 years ago, Arab Health provides a platform for the world's leading manufacturers, wholesalers and distributors to meet the medical and scientific community in the Middle East and subcontinent. Arab Health, organised by Informa Life Sciences Exhibitions, takes place from 27-30 January 2014 at the Dubai International Convention & Exhibition Centre. With more than 3900 exhibiting companies from 63 countries and 19 healthcare conferences with an estimated 9000 delegates, Arab Health is a much anticipated addition to the 2014 medical event calendar.
Website: www.arabhealthonline.com
About King Fahad Specialist Hospital, Dammam:
To contact Dr Yazan Said for further interviews please contact him on yazansaid@gmail.com.
Website: www.kfsh.med.sa
For press enquires please contact:
Weaam El-Ataya
PR & Social Media Executive
Informa Life Sciences Exhibitions
+971 4 408 2813
Weaam.elataya@informa.com