Only Watch 2013: the countdown begins
The world's leading super yacht show, the Monaco Yacht Show, part of Informa Plc, is once again co-organising the world famous charity watch auction, Only Watch, together with the Monaco Association against Duchenne Muscular Dystrophy and Antiquorum.
This year, the 33 unique timepieces to be featured at Only Watch 2013, symbolic of an exceptional level of watchmaking craftsmanship, are about to make an epic eight-stage journey.
From 30 August to 28 September 2013, the dates set for the grand auction at Monaco's Hôtel Hermitage, the 33 unique watches will be completing their very own world tour before opening for bids. These exceptional pieces will set out to capture the hearts of international collectors in a bid to promote the fight against muscular dystrophy.
Between 25 and 28 September, they will be back in Monaco as part of the Monaco Yacht Show, the world's premier showcase for super yachts. They be available to view in the Salle Belle Epoque in an exhibition held under the High Patronage de H.R.H. Prince Albert II of Monaco.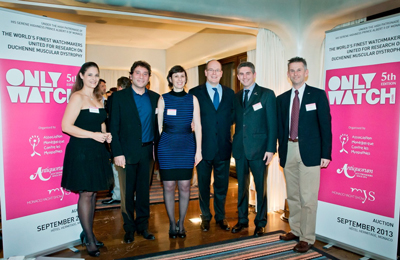 The last Only Watch auction, held in 2011, raised a record €4 million, and this year, as with all past events, all proceeds will be donated to the fight against muscular dystrophy, mainly to finance research into Duchenne muscular dystrophy. A rare neuromuscular auto-immune disease, and an extremely immobilising disorder that affects approximately 250,000 children, teenagers and young adults around the world.
'The funds raised by Only Watch enabled the Monaco Association against muscular dystrophy to finance more than a dozen teams around the world working on approaches to cell therapy, gene therapy and the exon jump. The task ahead is still immense', says Luis Garcia, research director at the CNRS and scientific co-ordinator of ICE, a concerted international research programme on Duchenne muscular dystrophy.