Lloyd's List breaks global story on Costa Concordia cruise ship
On Tuesday 17 January, Lloyd's List broke a story regarding the Costa Concordia cruise ship that has caused headlines around the world. Lloyd's List has generated significant coverage across all broadcast on major online/print news sites and platforms.
The company has also created a microsite which contains all its content and PR coverage regarding Costa Concordia. Click here to see more.
Read the full article below:
Lloyd's List tracking data shows that Costa Concordia sailed similar path on previous voyage
Exclusive analysis of Lloyd's List Intelligence vessel tracking data shows that Costa Concordia sailed within 230m of the coast of Giglio Island on a previous voyage.
Lloyd's List has uncovered new evidence which indicates that last Friday's Costa Concordia disaster may not be a black and white case of shipmaster error.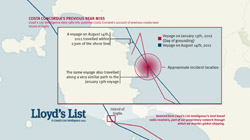 The cruise ship, which capsized off the Italian coast, had previously changed course to get closer to Giglio on the night of 14 August last year, owners Costa Cruises have said. The company's CEO, Pier Luigi Foschi, stressed the decision was taken under the authorisation of the local maritime authority and the permission of Costa after the route was reviewed. In a news conference on Monday, he claimed that the vessel was never closer than 500 metres from the coast at any point in that voyage.
Last Fridays ill-fated route, however, was described by Costa Cruises as a deviation from the pre-planned route to make a manoeuvre that was unauthorised, unapproved and unknown to Costa.
However, tracking data obtained by Lloyd's List Intelligence proprietary land-based AIS receivers shows that the approved and unapproved routes were just metres apart and that the previously approved route took the vessel closer to shore than the unapproved route.
The previously approved route took the vessel far closer to shore than the 500 metres claimed by Costa, explains Richard Meade, Editor of Lloyd's List. This is not a black and white case. Our data suggests that both routes took the vessel within 200 metres of the impact point and that the authorised route was actually closer to shore.
Charts could be a critical part of the case for the defence, should the master face criminal prosecution. UKHO charts of the area show no rocks in the area where Concordia was holed.