Golden named as head of Omega Performance
John Golden was recently named President and CEO of Omega Performance Corporation, a wholly owned subsidiary of Informa PLC. In this role, Golden brings deep understanding of both the financial services industry and performance improvement to Omega. "Omega Performance has long been a leader in the financial services training and performance improvement space," said Golden. "For the past 30 plus years, Omega has been one of the most-recognised brands for commercial credit and sales training. I look forward to working with our clients to bring excellence and world-class performance to their organisations."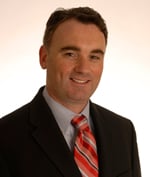 Prior to joining Omega Performance, Golden worked with several technology training firms, including SmartForce (formerly CBT systems) first in Dublin, Ireland and then in Silicon Valley, California, and New Horizons CLC and Learning Sciences International. He then served as Senior Vice President of Education and Business Development at the Mortgage Bankers Association in Washington, D.C. He is also President and CEO of Huthwaite, Inc., also a wholly owned subsidiary of Informa.
Originally from Ireland, Golden received his degree from Trinity College in Dublin and his Master of Arts from Dublin City University.