Introducing: Asian Container Shipping Week 2014
Informa's inaugural Intermodal Asia event takes place during Asian Container Shipping Week 2014, which will be held in Shanghai from Sunday 30th March to Thursday 3rd April.

Asian Container Shipping Week includes an extensive programme of events, commencing on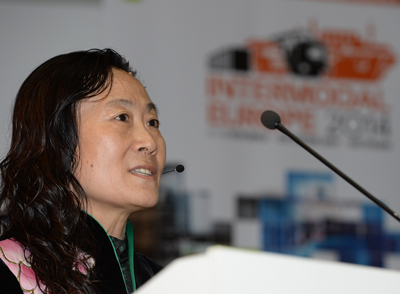 Sunday 30 March with the Container Owners Association (COA) Golf Day, followed by the COA's 14th General Meeting on Monday 31 March.

Intermodal Asia 2014 conference and exhibition opens its doors on Tuesday 1 April at the Shanghai World Expo Centre, with an opening ceremony hosted by Mr Mai Bo Liang of China's leading container association, the China Container Industry Association (CCIA).

Intermodal Asia 2014 is organised by Informa Exhibitions (the Intermodal Europe organiser) in joint partnership with the CCIA and will also benefit from the full support of CIMC (China International Marine Containers (Group) Co., Ltd.), which is the world's largest container manufacturer and is also the chairman member company of the CCIA.

A full programme of informative conference sessions is scheduled to run throughout the three day event, alongside the high profile exhibitors.

Conference topics will include a shippers panel addressing current and future issues for shippers, a container forum, looking at the variety of containers from smart containers to reefer containers, and also some sessions on environmental issues and a container handling technology forum. There will also be sessions looking at port issues for intermodal transport and an intermodal rail freight forum.
"The conference sessions running throughout Intermodal Asia 2014 will bring together the top industry leaders to discuss important container shipping and supply chain topics that affect the market today" says Mr Mai Bo Liang the CCIA Chairman and President of CIMC. "There will be a focus on world economics and international trade, considering the relationships within intermodal industries and looking to the future of intermodal transport."

The free to attend conference sessions will be held in both Mandarin and English and take place in the Strategy Theatre and the Innovation Theatre.
An exclusive tour of Shanghai Port takes place on Wednesday 2 April, day two of Intermodal Asia.
"There has been an overwhelming level of support for Intermodal Asia already and working with the CCIA and CIMC will ensure that this will truly be an industry led event" says Sophie Ahmed, Event Director. "Over 90% of the exhibition hall has already been booked and it is set to be a very successful and exciting industry event."

For information about Asian Container Shipping Week or exhibiting or speaking at Intermodal Asia 2014, please contact Sophie Ahmed on +44 (0) 207 017 5112 or email Sophie.ahmed@informa.com or Mr. Sun Chen on + 86 (10) 65253543 or email ccia@ccs.org.cn. Visit http://www.intermodal-asia.com for more information.

NOTES TO EDITORS:
Intermodal Asia is organised by Informa Exhibitions and the CCIA, and covers all areas of container transport and logistics across road, rail and sea. The event provides an invaluable industry forum, bringing together high-quality speakers and key exhibitors.
Informa Exhibitions also organises Intermodal Europe, the world-leading exhibition and conference for companies associated with the container and intermodal industries and now in its 36th year.

Visit www.intermodal-events.com or www.chinaccia.com for further information

Issued on behalf of Intermodal Asia by:
MOLOKINI MARKETING LTD
Press/Advertising enquiries contact:
Jude Mitcham | jude@molokini.co.uk
Laura Simmonds | laura@molokini.co.uk
Tel: +44 (0) 1903 207408 | www.molokini.co.uk