Informa's RORO 2014 is heading to London
RORO 2014, the only exhibition dedicated to the roll-on/roll-off industry, will bring together senior level logistics professionals from across the globe between 24-26 June at ExCel in London.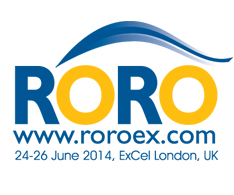 The show returns with a new-look format, making it easier than ever for visitors to find the right solutions and for exhibitors to meet decision makers.

The RORO event visits London for the first time in over 20 years, to one of Europe's best exhibition venues – London ExCel. With the Olympic transport investment legacy, thousands of daily direct flights and the newly opened deep-sea container port, London Gateway, London is a true destination city and the ideal location for RORO 2014.

Taking place alongside the exhibition, in the exhibition hall, the RORO conference will focus on high level and topical content regarding the movement of cargo using roll-on/roll-off (RoRo) shipping.

World leading speakers will provide global outlooks for various markets including the North Sea and Baltic, the Mediterranean and Asia, from the perspectives of shippers and shipping lines.
Fuels and the environment will also feature, with discussions about initiatives for cleaner shipping and a more sustainable logistics chain, optimising the energy efficiency of ships, emission control areas on global supply chains, LNG and new fuels.

Conference speakers will also be looking to the future of RoRo with additional topics such as RoPax: combining passengers and freight, deep sea RoRo and European short sea shipping.
"The themes, topics and discussions will attract key speakers and senior level professionals from the market, all looking to learn and make decisions and will provide a comprehensive understanding of the RoRo transport issues that are being faced today," says Sophie Ahmed, event director.

A new-look exhibition format, with a choice of three hassle-free exhibiting packages, is attracting a variety of exhibiting companies and helping to open up access to new markets.

"We have made the experience as cost-effective and time-effective as possible for exhibitors, so that their focus can stay on networking and business at the show," says Sophie Ahmed. "This will also help visitors to get more out of the event."

Logistics and shipping professionals at RORO 2014 will further benefit as the event will be co-located with TOC Europe and the recently launched Port Centric Logistics (PCL) exhibition.

"RORO 2014 is a free-to-attend three day exhibition and conference that provides logistics professionals involved in roll-on/roll-off shipping with the opportunity to meet, network and buy," adds Sophie Ahmed.

"Visitors will include high level decision makers from various sectors such as car and vehicle manufacturers/OEMs, cargo logistics companies, freight forwarders, ship builders, and port and terminal operators, with buying power."