Informa's Middle East Electricity introduces competition for UAE engineering students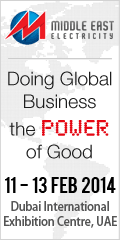 Informa Energy Group, organisers of Middle East Electricity, the region's largest and longest running energy event, has introduced Future Generation, a new competition focusing on energy conservation open to undergraduate engineering students in the UAE.

The challenge for each participant will be to design and develop an innovative energy conservation / alternative energy solution and present their ideas to visitors attending Middle East Electricity, taking place from 11-13 February 2014 at the Dubai International Convention and Exhibition Centre.
Visitors will have a unique opportunity to see the designs which will be on display at the Future Generation stand located in Sheikh Maktoum Hall, speak to students about their ideas and ultimately vote for their favourite.
The winner with the maximum number of votes will be presented with a prestigious award by Chair of the Education Committee for the Energy Institute Middle East on Thursday 13 February at 2:00pm in the Conference room in Sheikh Maktoum Hall.
Commenting on the launch of the Future Generation competition, Anita Mathews, Director of Informa Energy Group, said: "As the organisers of one the world's leading energy events we are committed to investing in the future of the energy industry and are proud to introduce the Future Generation competition.
"The demand for energy is on the rise in the UAE and across the Middle East, and in order to be efficient, we should have the ability to store this valuable resource when we have enough of it and to use it when we actually need it.
"The Future Generation competition will not only help create public awareness regarding the issue of energy conservation in the region but it will also help students to think out of the box and derive innovative solutions to further address this issue."
Some of the most innovative designs at the Future Generation competition include a spreadsheet performance model of the Shams1 solar power plant designed by students of Khalifa University and a poster designed by students of RIT Dubai highlighting the potential of solar assisted desiccant evaporative cooling systems.
Ahmed Warsame, Senior Mechanical Engineering student from RIT Dubai University, said: "Due to high temperatures and humidity in the region, cooling consumes a major portion of the total energy produced, of which over half is consumed by commercial and industrial use. Using more energy efficient cooling systems would not only reduce power consumption and the cooling expenditure, but also reduce the carbon footprint."
"A high percentage of mid-sized facilities and maintenance shops are unable to provide air conditioned working spaces to employees due to high overheads. Through this project we will examine the effectiveness and feasibility of the cooling system as a less expensive and ecologically friendly alternative to facilitate the problem of industrial cooling."
Commenting ahead of the Future Generation competition, Warsame said: "I am delighted to participate in the Future Generation competition as it's a great opportunity for us as engineering students to learn, show our certified skills and share our talents with industry experts."
Held under the patronage of His Highness Sheikh Maktoum bin Mohammed bin Rashid Al Maktoum, Deputy Ruler of Dubai, Middle East Electricity focuses on the power, lighting, renewable and nuclear sectors.
The three-day event is supported by Abu Dhabi Water and Electricity Authority (ADWEA), Dubai Municipality, Emirates Green Building Council, Society of Engineers – UAE, Environmental Center for Arab Towns, Clean Energy Business Council and Energy Institute Middle East.
Middle East Electricity 2014 is partnered with Power Nigeria in Lagos and Saudi Energy in Riyadh. To be involved as an exhibitor, sponsor or delegate, contact the Middle East Electricity team at: meelectricity@iirme.com or visit http://www.middleeastelectricity.com/

About Informa
Informa Exhibitions operate around 130 trade and consumer events in over 38 cities across the globe. The main office locations are in London, Sao Paulo, Dubai, Singapore, Melbourne and Beijing. Informa has more than 100 offices in more than 20 countries, employs over 6,000 staff globally and is the largest publicly owned organiser of conferences and courses in the world with an output of over 10,000 events annually.