Informa's "Go Bananas" 5th Year raises over £72k for cancer prevention charity
Informa's 'Going Bananas' event celebrated its fifth birthday in April, raising a total of nearly £400k for the World Cancer Research Fund (WCRF) over the five years. The annual event saw employees globally organise and get involved in banana-themed fun runs, sports days and even the odd bake sale to raise vital funds.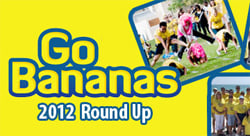 This year, more offices held events and almost 2,000 employees participated. Together, staff raised £32,718.45 and, with a corporate donation of £40,000 to match employees' efforts, the final total for the WCRF for 2011 has come to £72,718.45.
"We are extremely grateful to Informa for their committed support, raising almost £400,000 for WCRF over the last five years. This - the fifth year of the partnership - has seen an unprecedented level of support from Informa offices around the world. This support has enabled us to continue with our vital cancer prevention work and help us to achieve our goal of "stopping cancer before it starts," said Seth Bara of WCRF's fundraising team.
Informa intends to continue supporting the WCRF, as Informa's CEO, Peter Rigby, confirmed, "This is something we have done for many years and really enjoy. We are continually thinking about how to build on this event, year on year, to make it more fun as well as more rewarding for everyone involved".