Informa's 2014 Sustainability Report shines light on commitment to scale its impacts
• "For a sustainability strategy to be meaningful, it has to reflect the commercial strategy of the business," says Stephen A Carter, CBE, Group Chief Executive Informa Plc.

• Trust in content alongside accessible and innovative delivery platforms are key priorities

• Next chapter in Sustainability at Informa is about focusing its efforts to scale its impacts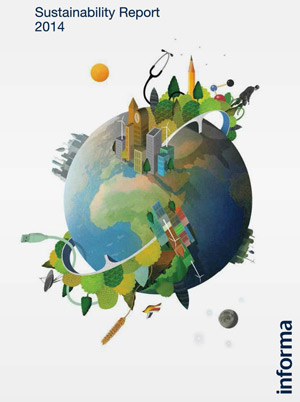 Informa's 2014 Sustainability Report has been published. It outlines and shows progress against key social and environmental priorities, reflecting increased alignment with the company's commercial strategy. Over the course of 2014, the Group's structure was simplified to improve flexibility and customer focus, while ambitious plans were launched to invest in a range of growth initiatives over the next three years. The Report highlights Informa's plans to similarly focus its efforts to scale its social impacts, using the core resources and skills of the company and its employees.

Building and maintaining trust remains at the centre of Informa's sustainability programme. Its Academic Publishing Division continues to run rigorous peer review and screening processes and at the same time uses the latest technology to detect and act on plagiarism. Its submission to the Dow Jones Sustainability Index again saw it receive the maximum score of 100 for its approach to ensuring "independence of content".

Providing the most accessible and innovative delivery platforms remains a key priority. 2014 marked a step-change in Informa's approach to open access (OA) with its OA publisher, Cogent. Cogent launched 14 OA journals, covering every major academic research area, while maintaining rigorous standards of content integrity. Informa continued to work on realising the potential of digital formats with an internal conference on 'Digital Transformation' and ceasing print delivery for a number of Agriculture/Food titles. 62% of book titles are now available as ebooks, up from 55% in 2013.

Other highlights from 2014 include furthering its reach and supporting access to knowledge in emerging regions, as well as using knowledge and platforms to further the sustainability agenda. The launch of the Routledge Sustainability Hub is notable as a comprehensive online knowledge centre for the global sustainability community.

Richard Menzies-Gow, Informa's Director of Corporate Communications, explained, "Our strategy remains ambitious as to the positive impact we can have across our Group. Just like our refreshed corporate strategy, the next chapter in sustainability at Informa will be about focusing our efforts to scale the impact we have. By aligning our teams behind a shared purpose and creating a unified sense of direction, we see a powerful opportunity to drive positive social and environmental benefits in our communities. Developing this theme will be a key priority for us in 2015".

Informa's full report is available here.