Informa strengthens Ipex Sales and Marketing Team with two key appointments
The Informa Print Group has today announced two key appointments that will add further strength and expertise to the Ipex Sales and Marketing team. Wayne Beckett has been promoted to the position of Sales Director, Ipex Print Group, while Andrew Thornhill joins the company as Marketing Manager, Informa Exhibitions. Both Wayne and Andrew will play key roles in supporting the Ipex portfolio which includes the continued growth of its online resource Ipex World, as well as the sales activity for Ipex 2014, the largest English speaking global technology event for print, publishing and media.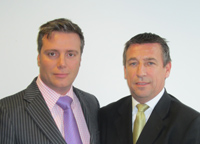 Wayne Beckett brings over 25 years of sales and marketing experience in the print and publishing sector to his new position as Sales Director, Ipex Print Group, where he will be working for Informa Print Group Director Trevor Crawford to spearhead exhibitor business development activities for Ipex 2014.
Prior to taking on his new role, Wayne was instrumental in successfully developing the sales and online service offerings of Ipex World, the easy-to-use online networking and resource portal dedicated to print professionals worldwide. Prior to joining Informa, Wayne has held senior sales-related positions within the publishing sector including Reed Business Publishing, Miller Freeman and Total Solutions Publishing and more recently as Managing Director of LSJ Marketing Ltd.
Andrew Thornhill joins the Informa Print Group from Faversham House Group, where he was Head of Online Marketing for the Group's Environmental division. A trained graphic and web designer with experience in working on high profile corporate identity projects, Andrew has also worked at FESPA as the senior marketing manager where he successfully implemented the marketing campaign for FESPA digital and significantly increased its social media interactive presence and membership. In his new role as Marketing Manager, Andrew will take over the strategic growth of Ipex World and will begin to work on the exhibitor and visitor promotions for Ipex 2014. Andrew, who will report to Marketing director Nick Craig-Waller has previous experience with Ipex having supported the marketing team during Ipex 2010.
Comments Trevor Crawford, Informa Print Group Director commented, "At such an exciting time in the expansion and strategic development of the Ipex brand, we are delighted to have such an experienced team on board. Both Wayne and Andrew bring a wealth of knowledge and expertise that will be invaluable to continue to drive the growth of Ipex World as a global online resource and as well as gear up our sales and promotional activities for our flagship event in London in 2014."
Ipex 2014 will take place at London's ExCeL http://www.excel-london.co.uk international exhibition and conference centre from 26th March to 2nd April 2014.
For more on Ipex go to http://www.ipex.org.