Informa publishes 2015 Sustainability Report
Group's sustainability priority remains delivering trusted content while championing accessibility, innovation and openness
London, 22 April 2016: Informa has published its 2015 Sustainability Report, which sets out the ways in which the company is meeting social and environmental opportunities and challenges, and how sustainability is increasingly integral to its commercial strategy.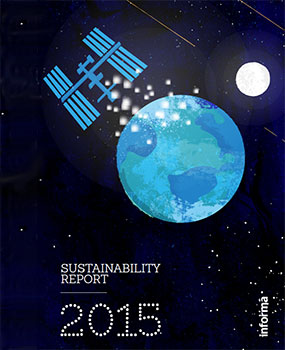 Building and maintaining trust in content remains Informa's primary sustainability priority, and the report includes information about the peer review and screening processes undertaken in the Academic Publishing Division, as well as the editorial and content code in place in the Business Intelligence Division.
In 2015, the Academic Publishing Division, which operates as Taylor & Francis, undertook one of the most comprehensive studies ever completed on peer review to support the industry's focus on integrity in scholarly communications. The number of articles the Division publishes under open access (OA) schemes increased by over 85% in 2015, as Informa continued to make progress on its aim to be a leading OA publisher. Informa now publishes 65 pure OA journals and nearly all of its journals offer an OA option.
Other highlights from 2015 included the launch of a new global health and safety programme to ensure the application of consistently high standards for visitors, exhibitors, employees and business partners attending large Informa events. Informa also moved its Group function to a new office in London, a building which has achieved a rating of 'Excellent' by the leading sustainable building rating scheme, BREEAM.
Richard Menzies-Gow, Informa's Director of Investor Relations, Corporate Communications and Brand explained, "I consider Sustainability a mechanism to help bring the Group together, cementing what Informa is and what we stand for across business areas and geographies. But also, and more importantly perhaps, we are now in a position to deliver much more impactful sustainability programmes, focused on our core skills and priorities. 2016 will see us taking advantage of the new operating structure, engaging colleagues around themes that are relevant locally but applicable globally."
Read the full 2015 Informa Sustainability report.
For more information, contact the Sustainability team at sustainability@informa.com