Ground breaking lymphocyte cryoconservation technology to be revealed at IMTEC 2014
A human's immune defences are the first to protect them against illnesses. A new technology involving a simple blood collection that allows us to harvest the cells responsible for immune defences will be introduced to the Middle East for the first time at the International Medical Travel Exhibition & Conference (IMTEC) by Amsterdam-based Immunobank.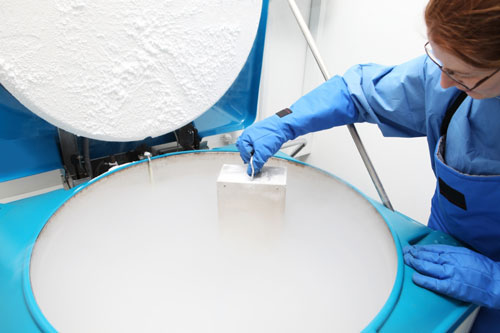 The medical travel event takes place 5-6 of March 2014 at the Dubai International Exhibition and Convention Centre, UAE, and is open to both those involved in the medical travel industry, as well as to patients who can visit the show to explore their international medical travel options.
The procedure of harvesting immune cells and storing them is performed by collecting a blood sample from a healthy adult, preserving it and re-injecting it when the body's immunity is weak. According to Immunobank, recent discoveries indicated that cellular immunotherapy can also supplement the therapeutic protocols used for certain cancers.
According to Professor Luc Montagnier, Nobel Prize winner in Medicine, and member of the Immunobank supervisory board and Ethics Committee, "Immunity is fundamental as it is the basis of good health. It allows us to fight against infections, cancer and cardiovascular disease and strengthens our body's defences against bacterial or viral attack. However, it is subject to ageing. As we get older our immunity decreases and the greater our vulnerability to serious or benign infections, viruses, etc."
The earlier the immune cells are taken from a healthy adult's body the more effective, functional and reliable they are. However there is no specific age limit; suitable candidacy for the procedure is usually determined by the patient's medical and the immune cell storage bank.
"We would like to expand our business in the Middle East region as we feel that this type of technology will be beneficial to the regional population, particularly in light of the alarming lifestyle disease rates among Arab populations. Are aim is to find partners such as existing blood banks who have obtained accreditations for cell therapies, cryoconservation, safety regulations, and so forth. IMTEC 2014 is the best platform to spread the information about an innovative technique due to the proximity of our target audience, and the event being located in Dubai which is a healthcare industry hub in the Middle East brings together experts, medical professionals and their prospective clients under one roof," commented Professor Montagnier.

The 2nd International Medical Travel Exhibition & Conference (IMTEC) is relocating from Monaco to Dubai, UAE, under the guidance of Informa Life Sciences Exhibitions, organisers of the Arab Health Exhibition & Congress. The IMTEC exhibition will provide a unique opportunity for companies within the medical travel value chain to showcase their services and facilities to a focused audience of medical travel professionals.
-END-
Note to the Editor
About IMTEC:
Website: www.medicaltravelexhibition.com
About Informa Life Sciences Exhibitions:
Website: www.informalifesciences.com
About Immunobank:
Website: [link removed as site is no longer available]
For media enquiries please contact:
Weaam El Ataya
Public Relations and Social Media Executive
Informa Life Sciences Exhibitions
T: +971 4 408 2813
Weaam.elataya@informa.com