Global outlook for the RoRo market presented at Informa's RORO 2014
The global outlook for the RoRo market will be the focus of a conference session presented by Mike Garratt, Managing Director of MDS Transmodal, at RORO 2014. RORO is the only exhibition and conference dedicated to the roll-on/roll-off shipping industry and takes place at ExCel in London, from 24-26 June.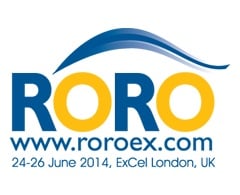 Day one of the RORO conference will focus on 'Markets under Pressure', commencing with 'The global outlook for the RoRo market' presented by Mike Garratt. The conference session will consider how the industry could identify a means of expanding, despite the fact that intra-European trade is relatively flat and the low emissions legislation could make it less competitive, according to Mike Garratt.

"I would like to critically debate the EU's 'Motorways of the Sea' initiative and suggest a way forward that would lead to a transfer of goods from road to sea" says Mike Garratt. "I would also suggest that this does not need to be on environmental grounds, but as a means of reducing supply chain costs. I think that could also link into port centric issues and widen the debate into the role of ports."

Focusing on the European market, the conference session will also address Intra European trade development and forecasts; trade and fleet development by corridor; public policy and the scope for RoRo expansion; as well as strategic options.

RORO 2014 is a free-to-attend three day exhibition and conference providing logistics professionals involved in roll-on/roll-off shipping with the opportunity to meet, network and do business. The RORO conference takes place within the exhibition hall and the sessions will provide a comprehensive understanding of the RoRo transport issues currently being faced.

"The themes, topics and discussions covered during the conference sessions will attract key senior level professionals from the market who are looking to learn and make decisions. They will feature high level and topical content regarding the movement of cargo using roll-on/roll-off (RoRo) shipping" says Sophie Ahmed, Event Director. "Visitors will include decision makers from various sectors including car and vehicle manufacturers / OEMs, cargo logistics companies, freight forwarders, ship builders and port and terminal operators, with buying power."

Logistics and shipping professionals at RORO 2014 will further benefit as the event will be co-located with TOC Europe and the recently launched Port Centric Logistics (PCL) exhibition.


NOTES TO EDITORS:
RORO exhibition and conference has been the meeting place of the Roll-On/Roll-Off industry for over 30 years. It is a meeting place for senior level terminal operations and supply chain professionals to discuss and discover the latest roll-on/roll-off solutions at the only dedicated event for the industry.
Organised by Informa Exhibitions, RORO provides an invaluable industry forum, bringing together high-quality speakers and key exhibitors.
Issued on behalf of RORO by:
MOLOKINI MARKETING LTD
Press/Advertising enquiries contact:
Jude Mitcham | jude@molokini.co.uk
Laura Simmonds | laura@molokini.co.uk
Tel: +44 (0) 1903 207408 | www.molokini.co.uk