Deutsche Telekom leads Informa's ranking of top telecoms operators in automotive market
DT pulls out in front as operator activity accelerates in 2012-13

Telecoms-operator activity in the automotive sector has accelerated sharply in the last 12 months as the connected vehicle continues to inspire new services and partnerships. According to Informa Telecoms & Media, 58% of the world's major telecoms-operator groups are active in this market – the most common services being driver behavior monitoring, navigation, information/entertainment, and enhanced fleet-management telematics.

Informa today publishes its Enterprise Verticals Activity Monitor (EVAM), which benchmarks telecoms operators by their publically-announced activities in the sector over the past 24 months. Deutsche Telekom, Sprint and Vodafone top the ranking.

Deutsche Telekom scores highly on all three dimensions of the scorecard: market presence, geographic reach and financial potential. The operator benefits from long-running relationships with global automotive OEMs and integrators based in Germany, plus T-Systems' high-value IT services. It also scores on readiness to exploit the fast-developing market for information/entertainment and telematics services in passenger vehicles.

Informa's activity monitor shows that 58% of the largest operators and groups worldwide offer automotive-related services. In total, over 50 operator groups offer services in the market and 38 made public announcements in the two years from 3Q11 to 2Q13 (see figure and attachment).

Operator activity in the connected-vehicle market, 1H11-1H13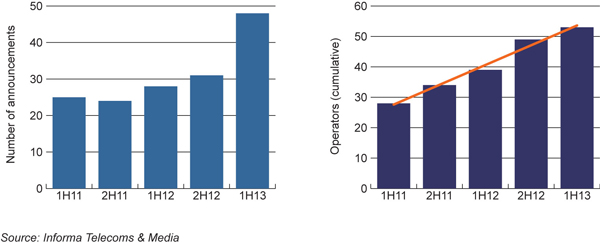 "With connected vehicles due to roll off the production line in the next few years, mobile operators are ramping up efforts to partner with OEMs on embedded connectivity," says Sheridan Nye, a senior analyst at Informa Telecoms & Media and author of the EVAM study. "The addition of millions of moving nodes to the 'Internet of everything' is a huge opportunity for location-based content services and new concepts such as urban mobility-as-a-service and vehicle-to-infrastructure traffic management."

Leading operators are pursuing higher-value opportunities through the development of applications, platforms and partnerships with telematics-service providers (TSPs). However, Informa's Connected Vehicle Survey, released last month, found differences of opinion about expected ARPU from the consumer market. Respondents from the automotive sector expect many services to be bundled into the price of the car, but communications service providers are more positive, estimating ongoing ARPU in a high-income country at between US$5 (£3) and US$20 per month.

"Telcos, OEMs and TSPs are still experimenting with new services, as demand in the consumer market is unclear today," Nye says. In the meantime, Informa recommends that communications suppliers address OEMs' immediate pain points. "Reducing costs in vehicle production, distribution and maintenance under warranty are B2B opportunities that rely on connectivity," Nye says.

The top 10 operator groups in the Enterprise Verticals Activity Monitor ranking for automotive are: Deutsche Telekom, Sprint, Vodafone, Verizon, Telefonica, AT&T, Orange, Telenor, China Unicom and NTT. The EVAM benchmark is based on public information released between 3Q11 and 2Q13 covering B2B, B2B2C and B2C services and applications for private passenger cars, commercial automotive transportation and managers of vehicle fleets.

About Informa's Enterprise Verticals Activity Monitor: Automotive
Informa's Enterprise Verticals Activity Monitor is a proprietary scorecard that ranks operators and operator groups by public information about their activity in a particular vertical, in this case automotive. The ranking is calculated from three inputs: market presence, financial status and geographic reach.

Click here to learn more about Informa's Enterprise Verticals Intelligence Centre.


For more information or to arrange an interview, please contact:

Bethan Casey,
PR and Marketing
Informa Telecoms & Media
Email: pr.enquiries@informa.com
Tel: + 44 (0) 2070 174 994

About Informa Telecoms & Media
Informa Telecoms & Media (www.informatandm.com) is the leading provider of business intelligence and strategic services to the global telecoms and media markets.