Container shipping industry leaders at Intermodal Asia opening ceremony
CEOs and VIPs from leading container and shipping companies will be in attendance for the official Opening Ceremony of the inaugural Intermodal Asia 2014, which takes place from 1-3 April at the Shanghai World Expo Center.

The opening ceremony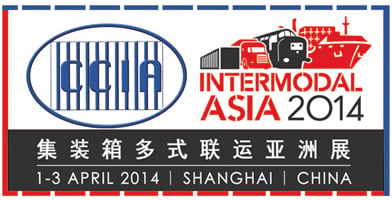 commences at 10am on Tuesday 1 April outside the exhibition hall, near the registration area and all speeches will be translated into both Mandarin and English, as required.

Intermodal Asia Event Director, Sophie Ahmed will host the opening ceremony, introducing the VIP speakers, including Chairman of the CCIA (China Container Industry Association), and President of CIMC (China International Marine Containers), Mr Mai Bo Liang, VIP guest, Mr. Qian Yongchang, Chairman of China Communications and Transport Association (CCTA) and Managing Director of Informa Exhibitions, Peter Hall, who will address the audience and officially open the event. Following the ceremony, Mr. Mai Bo Liang and Mr Qian will show all VIPs and visitors around the exhibition.

The CCIA and Informa Exhibitions formed a cooperation partnership to launch Intermodal Asia 2014 and the event is also benefitting from the full support of CIMC, which is the chairman member company of the CCIA.

"This prestigious Opening Ceremony will be a fitting way to celebrate the launch of Intermodal Asia" says Sophie Ahmed. "An Asian event has been in demand from the industry for a number of years and we are delighted to be delivering an event that will open up countless opportunities for participating companies and visitors."

Intermodal Asia 2014 takes place in Shanghai, China, which is home to the largest container port in the world, and visitors are invited to a tour around Yang Shan Deep-Water Port. The tour will take place on Day 2 of Intermodal Asia, Wednesday 2nd April from 12:30 - 17:30. There are limited spaces on the tour and registration will be on a first-come first-served basis. (Only registered visitors may apply for this tour. Bookings can be made through the website at (http://www.intermodal-asia.com/welcome).

For information about Intermodal Asia 2014, please contact Sophie Ahmed on +44 (0) 207 017 5112 or email Sophie.ahmed@informa.com or Mr. Sun Chen on + 86 (10) 65253543 or email ccia@ccs.org.cn.