Last chance to attend CITYSCAPE Riyadh 2010
CITYSCAPE Riyadh Real Estate Investment and Development Conference, the most prestigious, high-profile and valuable real estate gathering this year is now on at the Four Seasons Hotel in Riyadh.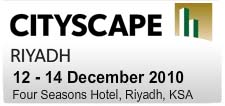 HRH Prince Mohammad Bin Saud Bin Naif Bin Abdulaziz opened the inaugural Riyadh edition of the Kingdom's premier real estate investment and development event. The event is focussing on the numerous real estate opportunities in the capital city, as Riyadh prepares to reinvent itself into a modern commercial hub within the next four to five years. The three-day show has been organised by the National Exhibitions Company and I.I.R. Exhibitions, part of Informa and will comprise an Exhibition (December 12-14), a Conference (December 12 -13) and Investor Round Tables (December 12-14).
Husain Alharthi, Managing Director of the National Exhibitions Company, said: "The next three days will be the culmination of months of hard work building up Riyadh as a real estate business hub. The event will be a new and exciting platform for identifying key ventures and partnerships that will expedite the emergence of a 'New Riyadh' and leverage the overall resilience of Saudi Arabia's property sector."
More than 40 expert speakers and over 150 delegates are converging at the Riyadh International Urban Development and Real Estate Investment Event - Cityscape Riyadh to share insights and best practices related to the thriving Riyadh property market. The event sponsors include Emaar Middle East (Principal Sponsor), National Commercial Bank (Silver Sponsor) and Working Buildings (Silver Sponsor). Admission to the exhibition is for trade visitors only, with shows running from 11 a.m. to 9 p.m. daily.