Informa celebrates 5 years of "Going Bananas" for the World Cancer Research Fund
April 14 was Informa's official 5th birthday of Going Bananas for the World Cancer Research Fund (WCRF). This has been an annual event during which employees around the world organise and get involved in banana-themed fun runs, sports days and even the odd bake sale to raise money for the WCRF.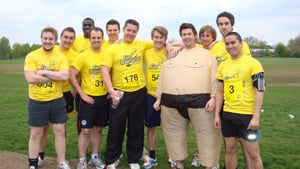 Why the combination of bananas and fitness? The WCRF's main goal is helping people make choices that reduce their chances of developing cancer. Research has shown that a healthy diet and exercise can prevent about a third of the most common cancers. So, every year, Informa employees embrace this theme, get fit and raise money to help others.
Informa's Chief Executive, Peter Rigby, donned his banana suit for the 5th time for the London race around Regent's Park with around 200 employees aiming to beat him around the 5km track – in his own words, "there is no pity for old men".
The Informa Australia office held a 5km race round Sydney Harbour, the German office along the river Rhine and the Singapore office in the Bougainvillea Garden at East Coast Park. Many more stories are coming in from the US, India, China, Taiwan, the Netherlands, Sweden and the UAE. Whether people take part purely for fun, for fancy dress, or for the sporting competition, Informa and its employees have collectively raised £300,000 in the last 4 years and hope to add £1000s more this year.