American "Prime Time" For Aesthetic and Anti-Ageing Medicine Journal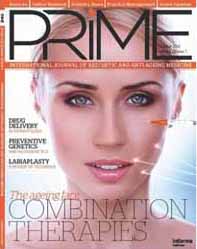 Informa, the leading publishers of medical, scientific and business journals, is launching an American edition of PRIME, its leading international peer-reviewed publication which provides quality scientific research and information on the rapidly growing and continually evolving Anti-Ageing and Aesthetic medicine market.
Launched to pan-European acclaim in 2011, PRIME has been successfully established as the leading source of information in the rapidly growing aesthetic and anti-ageing markets.
Aimed at Cosmetic and Plastic Surgeons, dermatologists, anti-ageing practitioners and physicians in the aesthetics and anti-ageing industry, the journal has galvanised opinion, lead debate and supported development in these markets during the two years since its European launch. Now, the US edition will provide territory specific research, analysis, information and debate for the world's biggest market.
"PRIME provides anti-ageing professionals and suppliers with a highly effective communications forum to learn, discuss, understand and implement the latest applications and technologies shaping the industry," says Simon Percival, Publisher of the new journal.
"Each month's issue of PRIME provides readers and users with access to cutting-edge peer-reviewed research, up-to-date news and information, exclusive data, examples and case studies, and a thorough examination of the global issues which surround the market," continues Percival. "The new US edition will fulfil this role for professionals who work in – or have an interest in – the American market."
PRIME is published in a monthly print version as well as a continually updated online version which provides subscribers with breaking news and up-to-the-minute research.
"Take up of aesthetic procedures in the US increased more than five-fold in the 10 years to 2007," says Rosalind Hill, Managing Editor of PRIME. "At the same time, anti-ageing medicine has emerged as a specialty area which focuses on understanding and controlling the biological process of ageing. Research house, Global Industry Analysts predicts that this sector could be worth almost US$300 billion within the next three years. That's close to half the size of the current global pharmaceuticals market."
Research in this area is not all about beauty and finding the fountain of youth. Major aims are to prevent disease, control factors that promote the occurrence of disease and promote a long and healthy lifespan.
"PRIME covers all aspects of the aesthetic and anti-ageing market from non-surgical treatments like Botox to ground-breaking research in fields such as neurology and endocrinology," continues Hill. "Our writers and editors have already established the journal as Europe's must-read publication in aesthetic and anti-ageing medicine. The US launch will build on Informa's core strengths in serving the clinical medicine market and ensure that PRIME is the must-read publication in the world's leading aesthetic and anti-ageing market."
To arrange for a free subscription to PRIME, please click here.