Share Price & ADR Dashboard
Share price information and charts, calculators and historical share prices. American Depository Receipts information can also be found here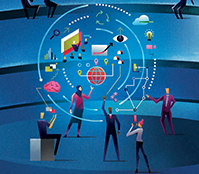 2022 Annual Report
Read Informa's 2022 Annual Report
Share Chart & Comparators
American Depository Receipts
Informa has a sponsored Level 1 American Depository Receipt ("ADR" programme, for which The Bank of New York Mellon acts as Depository. The Level 1 ADR programme trades on the US over-the-counter (OTC) market, under the symbol IFJPY (it is not listed on a US stock exchange). Each ADR represents 2 Informa Ordinary Shares.
What is an American Depository Receipt (ADR)?
What are the benefits of ADRs to U.S. investors?
How can I buy or sell ADRs?
Where are Informa PLC ADRs traded?
What is the difference between a registered holder and a beneficial ADR holder?
| | |
| --- | --- |
| ADR Symbol | IFJPY |
| CUSIP | 45672B305 |
| Platform | OTC |
| Ratio | 1:2 |
| Country | United Kingdom |
| Industry | Media |
| Depository | BNY Mellon |
| Effective Date | 1 July 2013 |
| Underlying SEDOL | BMJ6DW5 |
| Underlying ISIN | GB00BMJ6DW54 |
| U.S. ISIN | US45672B3050 |