Investment Case
Informa offers an attractive combination of growth and yield, with a robust business model that provides predictable and recurring revenues, and has low capital requirements and strong free cash flow generation.
The Group has a broad and balanced international portfolio of specialist brands, operating in attractive customer markets.
Find out more about our Divisions and their profile, and read about trends in several of the specialist markets in which we operate.
Attractive Markets
Leading Brands
Strong Financials
The Knowledge & Information economy
500m
tweets sent every day
28PB
generated from wearable devices by 2020
5bn
searches made per day, with 3.5bn from Google
4TB
data produced by a connected car
463EB
data created every day by 2025
4.4ZB
Accumulated digital universe of data in 2019
95m
photos and videos shared daily on instagram
Attractive Markets in Growth
Academic Books & Journals
$27bn
HSS & STM market size, according to Simba Information
0-2%
Market year-on-year growth
Business Information & Intelligence
$42bn
Total revenue in B2B Media and Business Intelligence according to Outsell, Inc.
4-6%
Market year-on-year growth
Trade Shows & Exhibitions
$31bn
Market size, according
3-6%
Market year-on-year growth
Conferences, Events & Training
>$100bn
Market size, according to proprietary analysis
0-3%
Market year-on-year growth
Global Reach & Predictable Revenue Streams
Group's Revenue by Region %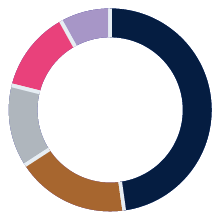 | | | |
| --- | --- | --- |
| | North America | 48% |
| | Rest of World | 18% |
| | China (including Hong Kong) | 13% |
| | Continental Europe | 13% |
| | UK | 8% |
Group's Revenue by Type %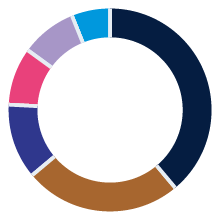 | | | |
| --- | --- | --- |
| | Exhibitor | 39% |
| | Subscriptions | 25% |
| | Unit Sales | 12% |
| | Attendee | 9% |
| | Marketing and advertising services | 9% |
| | Sponsorship | 6% |
Strong Cash Characteristics & Consistent Dividend Growth
Revenue (£M)

* Restated for the impact of IFRS 15
Cash Conversion %

Free Cash Flow (£M)
Dividend per share (p)