Role of Board
Informa's Board is chaired by John Rishton and consists of three Executive Directors and six Non-Executive Directors (including the Chairman). Details of their skills, experience and qualifications can be found in the Board's biographies.
The role of the Board is to provide leadership to the Company and to deliver Shareholder value over the long term. The Board sets the Company's values and standards, making sure that they align with its strategic aims and the desired business culture. The Board also ensures that the Company's obligations to its Shareholders and other stakeholders, including colleagues, suppliers, customers and the environment in which the business operates, are understood.
The Board has overall responsibility for the management and oversight of the Group and its activities, providing entrepreneurial leadership within a control framework. It is responsible for approving the Group's strategic objectives and ensuring that the necessary financial and human resources are made available to meet those objectives. Through the Audit Committee, the Board also reviews the Company's risk management and internal control systems on an ongoing basis.
The Company has established a governance structure which enables the Board to focus on the key areas of responsibility that affect the long-term success of the business: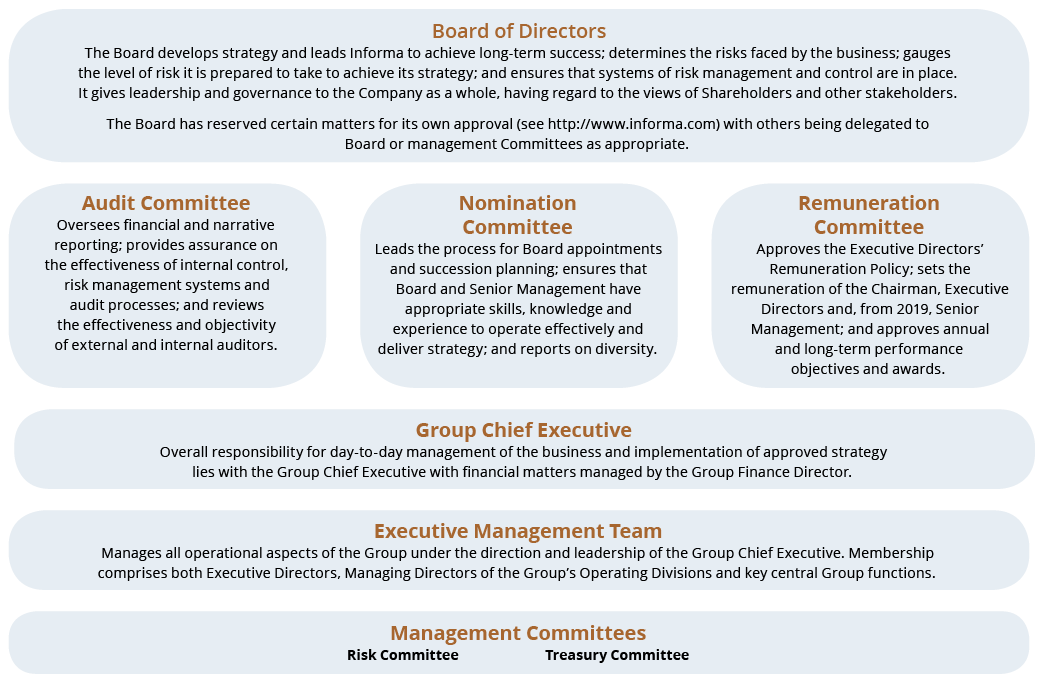 Regular Board and Committee meetings are scheduled throughout the year and the Directors ensure that they allocate sufficient time to discharge their duties effectively. Occasionally, Board meetings may be held at short notice when Board-level decisions of a time critical nature need to be made.
The Board maintains, and annually reviews, a schedule of matters reserved for its decision, which include but are not limited to:
approval of the Company's strategic objectives and overseeing their delivery;
assessment and monitoring of the Company's culture to ensure alignment with its purpose, values and strategy;
changes to the structure, size and composition of the Board following recommendations from the Nomination Committee;
determining the Remuneration Policy for Directors, the Company Secretary and, from 2019, Senior Management;
approval of significant investments/divestments;
approval of the Company's full-year and half-year financial results and the Annual Report and Accounts;
setting the dividend policy, approval of the interim dividend and recommendation of the final dividend;
appointment, reappointment and removal of the Company's external auditor (subject to Shareholder approval);
setting the Company's risk management strategy and maintaining a sound system of internal controls; and
determining appropriate methods of engagement with the workforce.
The Schedule of Matters Reserved for the Board is reviewed annually and was last approved in December 2018.
The roles of Chair and Group Chief Executive are exercised by separate individuals and have clearly defined responsibilities. The division of responsibilities between the Chair, Group Chief Executive, Senior Independent Director and the Non-Executive Directors is set out in writing and reviewed by the Board on a regular basis. Full details of each role are set out in the Division of Responsibilities and summarised below: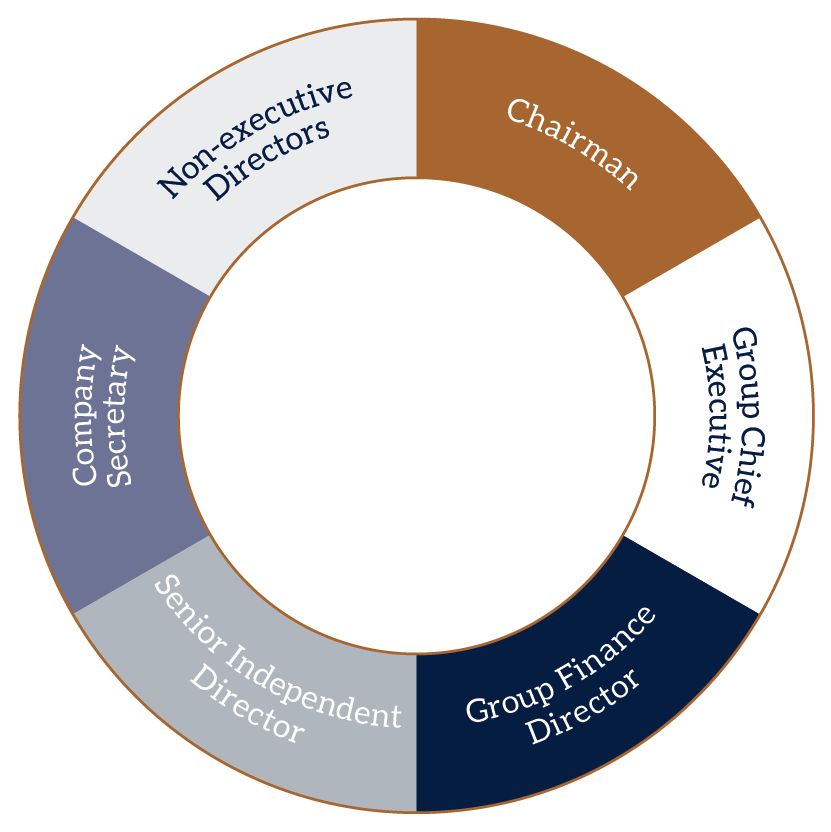 Chair
Leads the Board and sets the tone and agenda, promoting a culture of openness and debate
Ensures the effectiveness of the Board and that Directors receive accurate, timely and clear information
Ensures effective communication with Shareholders
Acts on the results of the Board performance evaluation and leads on the implementation of any required changes
As Chair of the Nomination Committee, leads the consideration of any changes to the Board
Holds periodic meetings with Non-Executive Directors without the Executive Directors present
Group Chief Executive
Runs the Company and is in direct charge of the Group day to day
Accountable to the Board for the Group's operational performance
Responsible for implementing the Company's strategy, including driving performance and optimising the Group's resources
Primary responsibility for managing the Group's risk profile, identifying and executing new business opportunities, and management development and remuneration
Group Finance Director
Accountable to the Board for the Group's financial performance
Responsible for raising the finance required to fund the Group's strategy, servicing the Group's financing and maintaining compliance with its covenants
Maintains a financial control environment capable of delivering robust financial reporting information to indicate the Group's financial position
Leads the Finance functions and has day-to-day responsibility for Finance, Tax, Treasury and Internal Audit
Chairs key internal committees such as the Risk Committee and the Treasury Committee
Senior Independent Director
Available to meet Shareholders on request
Ensures that the Board is aware of any Shareholder concerns
Assists where Shareholder issues are not resolved through existing mechanisms for investor communications
Acts as a sounding board for the Chair and, if and when appropriate, serves as an intermediary for the other Directors
Leads the annual evaluation of the Chair's performance
Company Secretary
Responsible for advising the Board, through the Chair, on all governance matters
All Directors have access to the Company Secretary's advice and service
Non-Executive Directors
Constructively challenge and help develop proposals on strategy
Scrutinise the performance of the Executive Management Team in meeting agreed goals and objectives
Monitor the reporting of performance
Satisfy themselves on the integrity of financial information
Ensure that financial controls and systems of risk management are robust and defensible
Determine appropriate levels of remuneration for the Executive Directors, the Chair and, from 2019, Senior Management
Play a primary role in succession planning and appointing and, where necessary, removing Executive Directors
Meet without the Executive Directors present
Attend meetings with major Shareholders to discuss governance and strategy